Yeast and yeast-based additives as a source of nutrients for each type of pet food: everything you need to know
Discover the benefits of ICC Brazil solutions to meet every animal need in Standard to Super Premium formulations.
Although the use of yeast and yeast-based additives as a source of nutrients in animal diets is well known around the world, there are still some doubts about their use in pet food. Therefore, we have listed here the main benefits in the formulation of Standard, Premium, Premium Special, and Super Premium diets, considering various techniques and their several uses. Learn more about the benefits of ICC Brazil's line of solutions for animal nutrition.
First of all, it is worth noting that commercial pet food is classified according to the segmentation instituted by the industry itself, as Standard or Economy, Premium, Premium Special, and Super Premium. There is a significant qualitative difference between these formulations, which involves the selection of raw materials and their analysis, evaluation of digestibility and nutrient absorption by animals.
In order to formulate a diet, in addition to nutritional factors, the costs of ingredients are considered through the use of formulation programs. The inclusion of functional additives or yeast as a source of nutrients in diets is a common practice and often used to give them some exclusive benefit, adding quality and value to the final product. The most appropriate choice for your pet's food must, therefore, consider economic, nutritional factors and the specific benefits sought.
Standard (economical)
These diets are characterized by being composed of protein sources of lower quality and less biological value, requiring higher consumption by animals to meet their nutritional needs and greater inclusion of palatabilizers.
For this type of food, yeasts as a source of nutrients, from ethanol or brewery production process, are an excellent option to increase its nutritional quality, since these are protein sources with an interesting amino acid and B vitamins profile. Yeasts are also excellent sources of glutamic acid, making it possible to reduce the use of palatabilizers.
As for the use of additives, ImmunoWall® is an excellent option. For diets that use fewer noble ingredients in their formulation, the inclusion of ImmunoWall® as a source of MOS and b-glucans is highly positive, since it provides benefits on gut integrity, acts on the agglutination of pathogens and acts as an immunomodulator, resulting in an excellent value for money.
Premium and Special Premium
These are diets with a greater diversity of ingredients, better protein profile, and more excellent digestibility. From an economic point of view, they allow the use of brewer's nutritional yeast and additives such as MOS and β-glucans (ImmunoWall®), autolyzed yeast (LysCell®) and mycotoxin adsorbents (StarFix®).
Super Premium and Veterinary diets
The Super Premium and Veterinary diets are made up of even more noble ingredients with high digestibility. They provide better use of nutrients, requiring less consumption in order to meet the animal's needs. Another important characteristic of Super Premium diets is that their composition is usually fixed; that is, the replacement of any of its components is not allowed.
Pesquisa e Desenvolvimento - Ração mais Palatável
A ICC Brazil produziu um material para profissionais que querem ampliar seu conhecimento técnico sobre a importância da palatabilidade, nutrição animal, e de como isso reflete no fortalecimento do sistema imunológico dos pets. O conteúdo traz informações baseadas em experimentos científicos, realizados in vivo, e apresenta resultados comprovados e aprovados pela comunidade cientifica.
Investigación Y Desarrollo – Alimento Más Palatable
ICC Brazil ha producido un material para profesionales que desean ampliar su conocimiento técnico acerca de la importancia de la palatabilidad, la nutrición animal, y de cómo eso se refleja en el fortalecimiento del sistema inmunitario de los pets. El contenido proporciona información basada en experimentos científicos realizados in vivo, y presenta resultados comprobados y aprobados por la comunidad científica.
Research and Development - More palatable feed
ICC Brazil developed a material for professionals who wish to broaden their technical knowledge on the importance of palatability and animal nutrition, and how this reflects on strengthening the immune system of pets. The content brings information based on scientific in vivo experiments and presents proven and attested results.
In these diets, the main goal is to have high-quality ingredients and also to provide maximum animal welfare, so the use of additives is almost a rule. It is also possible to consider the inclusion of a yeast-based solution, such as a source of MOS & β-glucans present in ImmunoWall® – which are focused on improving gut health and modulating the immune response of animals, making them less susceptible to diseases -, adsorbents, such as StarFix®, which reduce the risk of mycotoxin contamination that may be present in the diet, added to traditional brewer's yeasts, such as Brewe´s EXL®, and autolyzed yeast, LysCell®.
It is worth mentioning that LysCell® is an ideal product for diets intended for animals with dermal sensitivity or allergic problems since it has a high concentration of short-chain peptides, which are not detected as allergens by the immunoglobulins (IgE). The autolysis process also contributes to greater palatability and digestibility.
Here we suggest the inclusion of different types of nutritional yeast or additives, considering some types of pet food available on the market: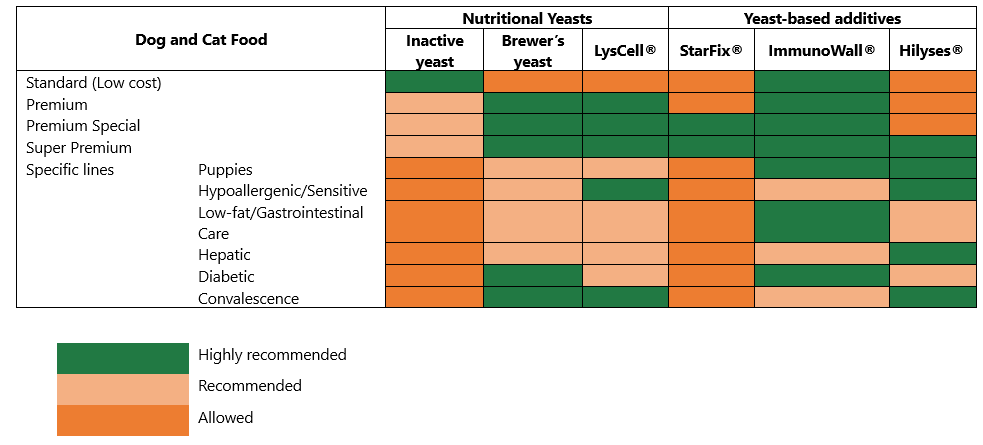 Now that you have answered all your doubts about the use of yeasts in pet food bring this product to your formulation through ICC Brazil's solutions, visit: www.iccbrazil.com/en/linha-produtos/
Posted in 21 August of 2020