(Português-BR) Dicas de como melhorar o desempenho dos bovinos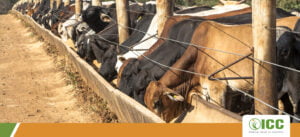 The results of rural activities and animal performance depend on nutrition and appropriate management techniques. Whether for dairy production or beef cattle, energy, protein, and mineral supplementation is necessary.
Genetic predisposition is a factor that directly influences nutritional planning to develop a balanced diet that increases the productivity and reproductive performance of farm animals. That's why ICC Animal Nutrition, a pioneer in the development of natural and sustainable yeast-based solutions for animal nutrition, health, welfare, and performance, has highlighted four tips for improving animal performance.
Have a specific feed for each stage;
Understand nutritional deficiencies and needs;
Take care of food availability; and
Pay attention to weather changes, room temperature, ventilation, and hydration.
In addition, livestock farmers have also been looking for nutritional additives from natural sources to increase gain and guarantee food safety.
RumenYeast® is a natural, functional, and pure choice to face the different challenges of meat production with production efficiency.
With the pioneering Four Steps RumenYeast® (4SRY) technology, RumenYeast® provides improved diet digestibility, maintains gastrointestinal tract integrity, and enhances immune response, enhancing health, welfare, safety, efficiency, and productivity.
Especially in intensive production systems, there is a period of adaptation to grain-rich diets, health challenges, and heat stress.
🐄 Ruminal Health;
🐄 Rumen Digestion;
🐄 Gut Health;
🐄 Immunological Status.
Learn about the results delivered by RumenYeast®: www.rumenyeast.com
Posted in 28 September of 2023