Safe Management Series: animal welfare and facilities in cattle farming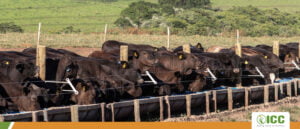 Marcelo Pedrosa Carneiro, ICC Brazil's ruminant specialist, shares information to improve the animal's environment and support their welfare.
In addition to being an important humanitarian issue, the promotion of animal welfare has a positive impact on the production and quality of milk and meat. Consideration of facilities and environmental improvements are key factors for production. Marcelo Pedrosa Carneiro, ICC Brazil's ruminant expert, offers some tips to ensure more quality of life for animals, and thus increase business performance and productivity.
One of the first areas of attention is free and continuous access to fresh, clean water. Keeping equipment and facilities clean, comfortable, and safe, as well as providing unrestricted shaded areas and access to sunlight, are additional ways to benefit animal welfare and promote product quality and system profitability.
While this level of control is also necessary for pasture systems, the biggest concern lies in feedlot systems. Facilities must be designed and maintained with animal welfare in mind.
For example, thermal stress is one of the main concerns regarding high-production dairy cows managed in free-stall compost barn systems. This problem is related to the loss in the productive and reproductive efficiency of the animals, in addition to causing metabolic disturbances, increasing the chances of the animal becoming ill. That is why investment in air conditioning equipment is necessary. The production of feedlot beef cattle is also benefitted by water sprinklers and access to shaded areas, which allow the animals to cool off.
Last but not least, animal welfare is the way the farm's employees interact with the herd. They must be aware of their role in ensuring animal well-being and be continuously trained in safety management practices. Routine procedures, such as transporting and receiving animals, sorting, identifying, weighing, sanitary control, feeding, milking, etc., must be carried out calmly and hygienically with minimal noise and care not to hurt or frighten the animals. The lack of attention at any of these points leads to significant economic losses and reductions in the quality of meat and milk.
RumenYeast® – Ruminal and intestinal double modulation
RumenYeast® is a natural, functional, and pure choice to face the different challenges of meat production with production efficiency.
RumenYeast® is a pioneering technology that utilizes 4SRY technology to enhance the digestibility of diets, maintain gastrointestinal tract integrity, and enhance immune response, thereby delivering enhanced health, welfare, safety, efficiency, and productivity.
Especially in intensive production systems, there is a period of adaptation to grain-rich diets, health challenges, and heat stress.
🐄 Ruminal Health;
🐄 Rumen Digestion;
🐄 Gut Health;
🐄 Immunological Status.
Learn about the results delivered by RumenYeast®: www.rumenyeast.com
Posted in 28 September of 2023